Mangalnath,Ujjain
Mangalnath Temple is a highly revered shrine situated in Ujjain District, Madhya Pradesh. According to Matsya Purana, Mangalnath is considered to be the birth place of Mars. The presiding deity is Lord Shiva. Mangalnath Temple which looks upon a vast expanses of the Shipra River, offers an indescribable sense of peace to the tourists. It is situated at the place where the first meridian is said to pass the earth. In ancient times, the place Mangalnath was famous for a clear view of the planet and hence is a suitable place for astronomical studies.
Mangalnath Temple is situated away from the hustle and bustle of Ujjain and can be reached through a winding road. Ujjain Junction railway station is the nearest railhead.


Mangal
Lord Mangal (Mars) is one of the nine planets or navagrahas. He is also known by the names Angaraka and Kuja. According to Vedic mythology, Lord Mangal is born of Sarva and Vikesi (Earth goddess). He is associated with strength, valor, and courage. Lord Mangal is the protector of dharma (righteousness), and the purpose of life. Lord Mangal has four hands, and carries a trident and mace as weapons. He wears red ornaments. Worshiping Lord Mangal frees one from skin illnesses, debts, and poverty. The gemstone of Lord Mangal is the red coral, and his day is Tuesday. He is the guardian of the south direction.

Mahakaal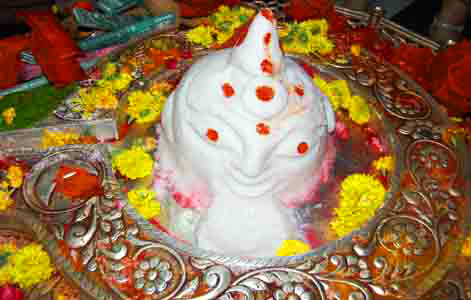 About Ujjain
Ujjain is a very holy city for the Hindus, and a site for the triennial Kumbh Mela, Ujjain gets its sanctity, from a mythological tale, about the churning of the oceans, by the gods and demons, in search of the nectar of Immortality. When the coveted vessel of nectar was finally found, there followed a mad scramble across the skies, with the demons pursuing the gods, in an attempt to take the nectar from them. Four drops were spilt,and they fell at Haridwar, Nasik, Ujjain and Prayag. As a result, Ujjain is one of the sites of the Kumbh Mela, which takes place here ,every 12 years. Apart from mythological legends, Ujjain represents an interesting blend of an age-old legacy and the modern day lifestyle,with a long and distinguished history, governed by the likes of Vikramaditya, and Ashoka, who wrote his soul stirring poetry here. Ujjain is situated on the Malwa Plateau in Central India. The soil is black and stony. The vegetation is typical of arid regions with thorny trees like babul and acacia dominating the landscape. Soybean, wheat, jowar and bajra are the main crops grown.